Welcome to our company!

Food. One word, which would get your tummy rumbling and would make you drool. Everyone loves having good food, but don't you get tired of cooking all the time? Well forget your worries! We, at Vezlay Foods Pvt. Ltd. are providing a soul satisfying range of frozen and non-frozen food items to our clients. A trusted Manufacturer and Supplier of Frozen Food & Processed Food, established in the year 2010, we are catering to the different palates of the Indian market, Having an exceptional nutritional content, these array of products are the top choice among various renowned cooks across the country. From Soya Chikka - Rogan Josh, Soya Chikka, Soya Shami Kabab and Soya Indi Chop, our patrons have a wide variety of Frozen Food to choose from, as per their tastes and preferences. Keeping a high regard for quality, we assure you that such goods have zero preservatives whatsoever.
Health Assurance

Health is of utmost importance to our company. We take every measure possible so as to not jeopardize the health of any customer. Conducting a rigorous set of checks and tests, our proficient team of experts make sure that each of these Processed Food like Soya Chikka - Rogan Josh, Soya Chikka and other such goods meet the required safety protocols in a perfect manner. Supported by a reliable packaging facility, our professionals use the best materials to wrap these goods, thus allowing them to keep up to their standards at all times.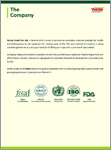 Read More